Mia Comes Home to One Heart Wild Sanctuary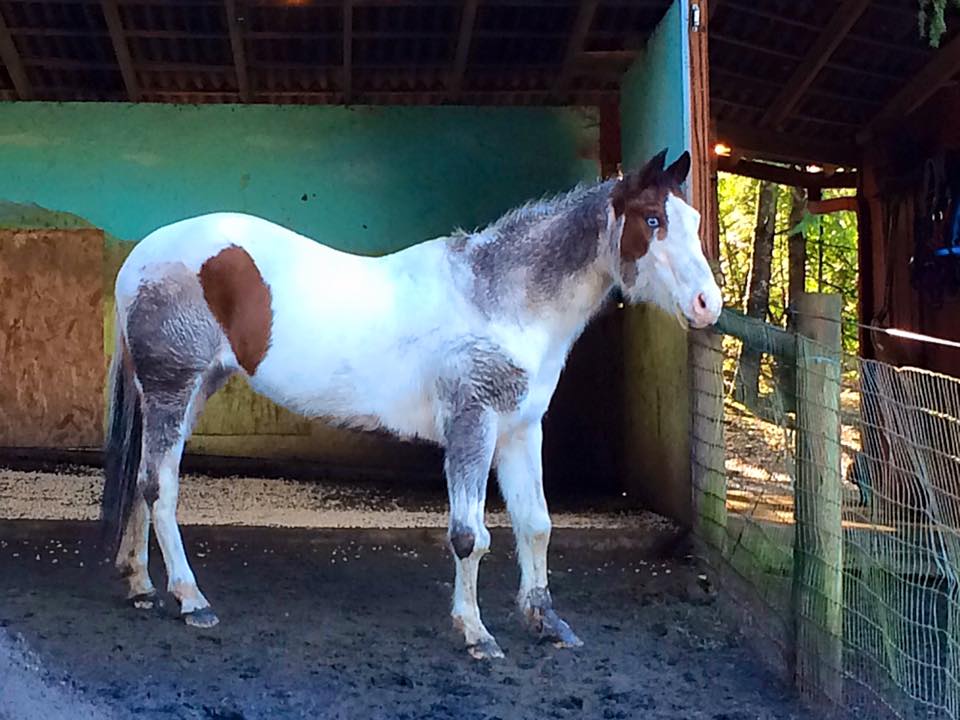 Just in time for Valentine's Day, Mia, the mare paint rescued by the Kitsap Humane Society, was delivered to our sanctuary on Febrary 12, thanks to more than $5,000 contributed by generous donors who wanted to make Mia a permanent resident of One Heart Wild Education Sanctuary.
Mia was delivered by her original rescuer, Kitsap Humane Society Animal Control Officer Chase Connolly, who has built a strong personal bond with Mia and plans to regularly visit her.
As she has not been around other horses for more than a decade, Mia was given her own space and will be allowed to slowly get acclimated to her new surroundings and friends.
Mia was was in extremely poor health when first rescued. Although veterinary reports suggested that she could recover fully with the right care and surroundings, Mia requires significant treatment for her teeth, hooves and joints.
Staff at One Heart Wild determined that she was an excellent candidate to become a permanent resident at the sanctuary and developed a plan for her transfer from her temporary home at the Kitsap Humane Society.
A $10,000 fundraising campaign was launched, the first phase of which aimed to provide $5,000 for Mia's transfer to our sanctuary.
We still need to raise an additional $5,000 to pay for the treatment costs and other expenses needed to nurse Mia back to full health over the next two years.
(If you can help, please click here!) Mia's expenses will include:
Veterinary care including x-rays, medications and ongoing rehabilitation consultations for the damage that neglect caused to her front knees.
Foot care every 6 weeks to bring her hooves back to health and to improve her stability and mobility.
Dental care every 6 months to give her the ability to eat well and gain weight - this may include more complicated care because of her neglect.
Pain management which will include medication and supplements.
Special dietary needs to provide balanced nutrition for healthy weight gain and maintenance.
Special housing improvements to meet her current physical limitations.
An emergency fund for unexpected costs that often arise during rehabilitation.
Once Mia is healed, she may find that she likes working with the children, teens and adults who come to the Sanctuary for therapy services. 
Stay tuned for updates on Mia's progress here at One Heart a Wild.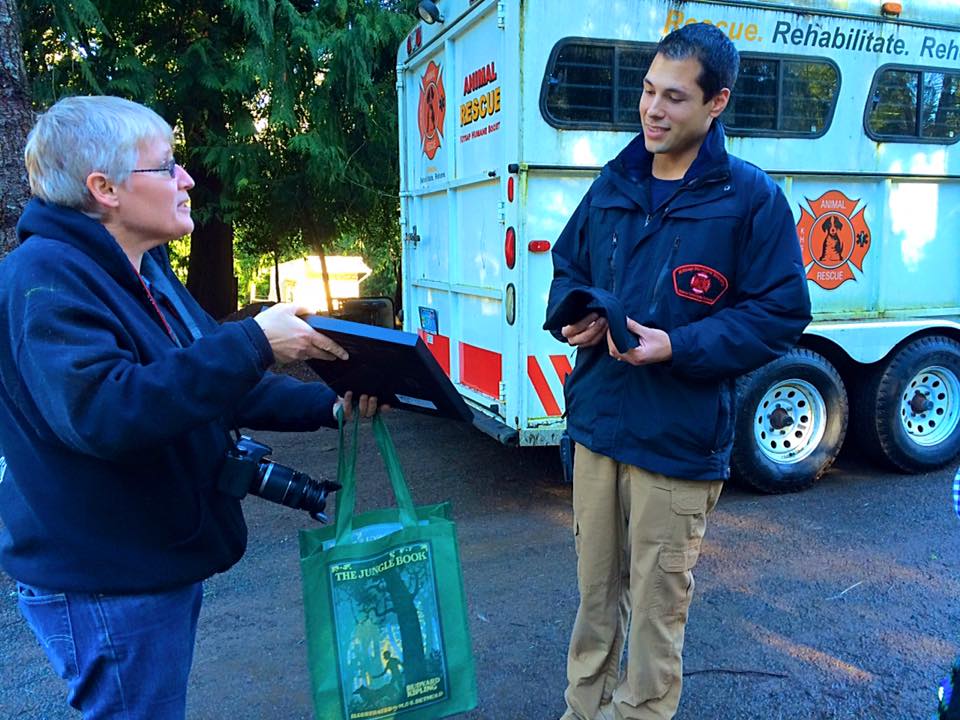 Above photo, we present Officer Connoly with a sketch of Mia and an OHW hat for his kindness in helping deliver Mia to her new, permanent home. Below, Mia's first meeting with Jeffrey and Sparky, the goats. In the bottom photo, Mia sports a health mash "moustache," from enthusiastically enjoying the smoothie-like mix of feed and vitamins designed to help her regain her strength.