Bringing People & Animals Together To Heal & Grow
---
Thank You for partnering with One Heart Wild to support people and nonhuman animals in need of a safe place to land to heal and grow. 
Thank you for being part of our compassionate community, your gift changes lives ~ one human-animal relationship at a time.  
As a 501 (c)(3) your support is tax deductible.
Your generosity will support more foster children, more women and children impacted by sexual exploitation, more teens struggling with anxiety and depression, more children-teens-adults impacted by trauma, poverty, or illness, and more veterans and active duty personnel.
Join the Guardian Angel Animal Sanctuary Support Team providing stable, continuous monthly support to the animals who depend on us for the rest of their lives.
1. Choose a level below, 2. At the bottom of the page be sure to check the give monthly box, 3. Choose if you want to opt out of gifts or choose the type of gifts you want to receive, 4. Your gifts will be mailed directly to you, 5. Celebrate being part of the One Heart Wild Guardian Angel Team!!
Heroes of Hope:  $200+ per month (or a gift of $3000+)
Includes a gift of an artisan hair fired ceramic vessel made with naturally lost hair and feathers from at least four of our sanctuary animal species, in addition to all other level gifts.
Sanctuary Champions: $90 - $199 per month
Includes a gift of a handmade horse shoe animal bead dream catcher or logo embroidered ball cap, in addition to Friend and Helping Hand level gifts.
Sanctuary Friends: $40 - $89 per month
Includes a gift of an artisan acrylic heart with naturally lost hair from One Heart Wild animal friends, in addition to Helping Hand gifts.
Sanctuary Helping Hands: $10 - $39 per month
One Heart Wild branded gift bag (window decal, 2 hand drawn color mounted note cards of our animal residents, t-shirt or tote with limited edition "We Are All In This Together" logo.
Sanctuary Advocate: businesses, families, or individuals who would like to be recognized on our new website by name or logo at an annual cost of $250
Your donations go directly to the animals and the people we serve.
You are the game changer in our work together! 
---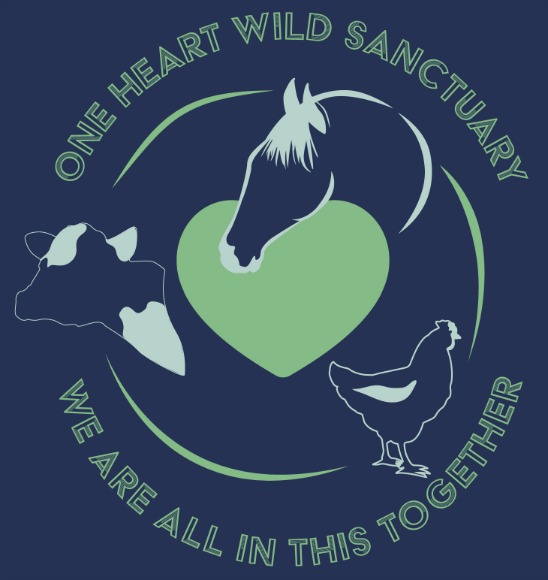 Limited Edition Guardian Angel Program Logo