The ROOTS Institute: an overview
The ROOTS Institute represents a next-generation approach to Animal Assisted Facilitation education and professional certification, providing a scientifically and ethically sound paradigm shift in the understanding and teaching of Animal/Equine Assisted Self Development, Animal/Equine Assisted Psychotherapy, and nonhuman animal well-being and welfare advocacy.
By studying inter-species relationship through a Trans-species Psychology lens integrating psychology, ethology, ecology, and neuroscience, students will be prepared to facilitate exceptionally effective programs that are equally beneficial to all beings involved. That is what distinguishes the ROOTS Institute from other programs. No other Animal/Equine Assisted Facilitiation Education model is designed for the mutual benefit of both human beings and nonhuman animals. We believe that this is not only an ethical imperative, but a practical one as well, as it adds layers of beneficial, empathic understanding.
The twelve month training programs includes; six on-site instructional and experiential modules, distance learning modules, a field observation ethology module, and individual student mentoring and supervision. Modules are typically four days long and held on two week days and two weekend days per module to make the program manageable for working students.
Currently the certification is held in Washington State at One Heart Wild Education Sanctuary. Future plans include hosting certification programs in Pennsylvania, and Great Britain (England).
The field of animal assisted self development and psychotherapy is dynamic and rapidly developing. ROOTS Institute Faculty is committed to staying abreast of the most current science affecting our field as well as participating in future research projects. ROOTS advocates and certificate holders become an integral part of a professional network supported through continuing education, supervision, and education conferences to stay current with the latest science affecting our field. Students completing certification programs will have a variety of continuing education opportunities.
ROOTS Institute Certification is taught over a twelve month period that includes online modules, 6 onsite modules and a field observation module. Onsite modules are 4 days long and typically run Thursday - Sunday.
ROOTS Brochure Outside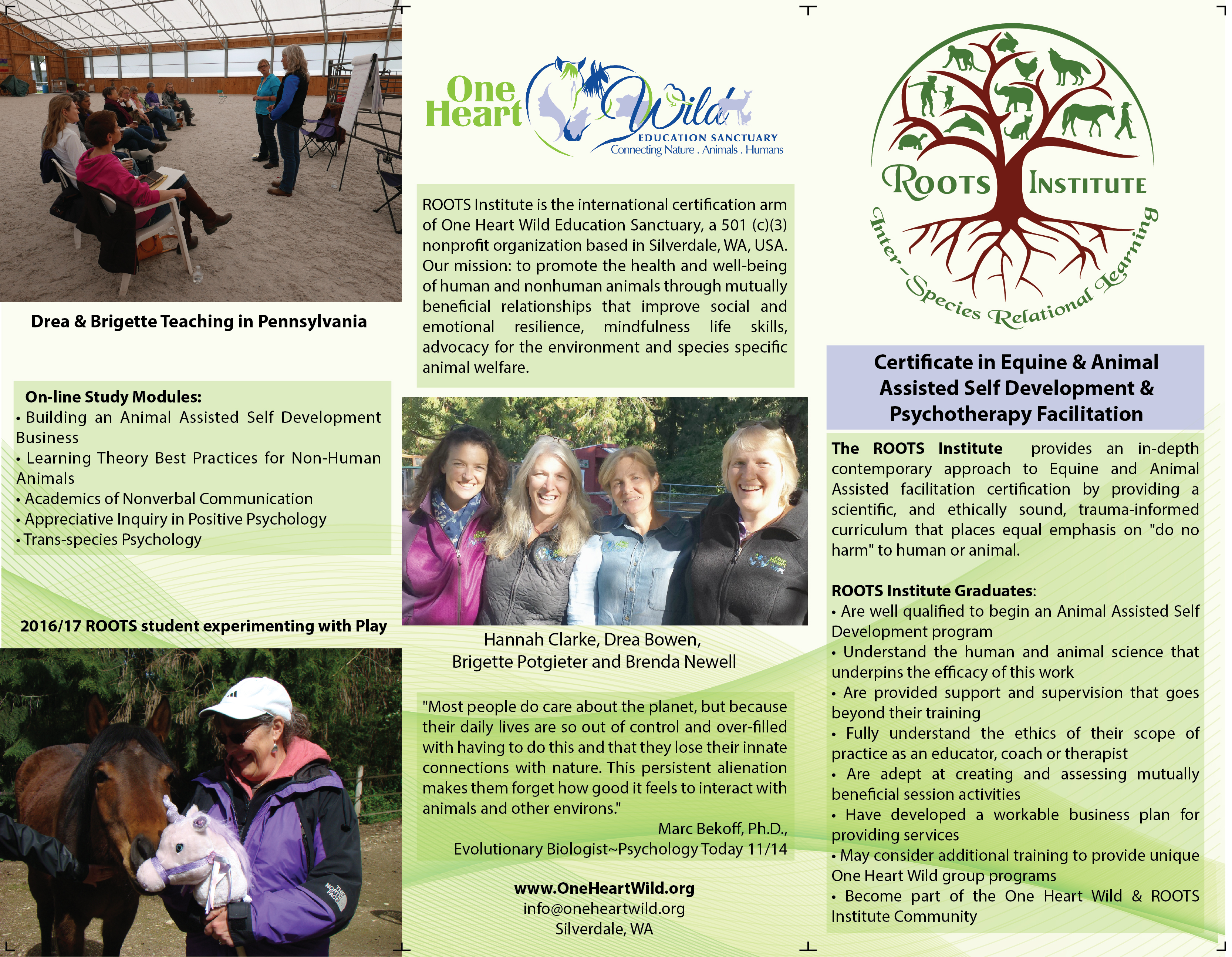 ROOTS Brochure Inside